Agile Team Coaching
Program
Hi there!
I'm putting together a group of Agile Leaders and showing them how to identify team hidden obstacles and turn them into a growth plan using a targeted coaching-facilitation system in 30 days.

We start in May.
Enroll Today and Get Instant Access
What we are going to do together?
We will go through just enough coaching and facilitation skills and practical exercises to identify the weak points and improvement actions towards team high-performance together.

We will examine key areas to focus on with your teams and use targeted exercises to increase awareness, intention and impact, and come up with the ultimate improvement plan.

I have run it with teams and have seen more than a 30% increase in team cohesion, value delivery, and goal achievement after implementation in less than 3 months.
Here are some testimonials from happy clients
It's UNLIKE ANYTHING you've ever seen.
While many agilists are:

Getting sophisticated knowledge in theories and models, then going back to their teams and still not knowing how and when to use those in practice;


Losing time and energy while making tons of attempts on their own before figuring out what actually goes wrong and what are the possible solutions;



Being stuck with what to do next, losing confidence, and as a result focusing on the processes and administrative support for their teams dismissing the actual value they create;
We are helping our teams to see more than a 30% increase in team cohesion, value delivery, and goal achievement after implementation in less than 3 months.
It doesn't always happen that way… but I've seen it done enough to know it's possible!
Enroll Today
How it will be done?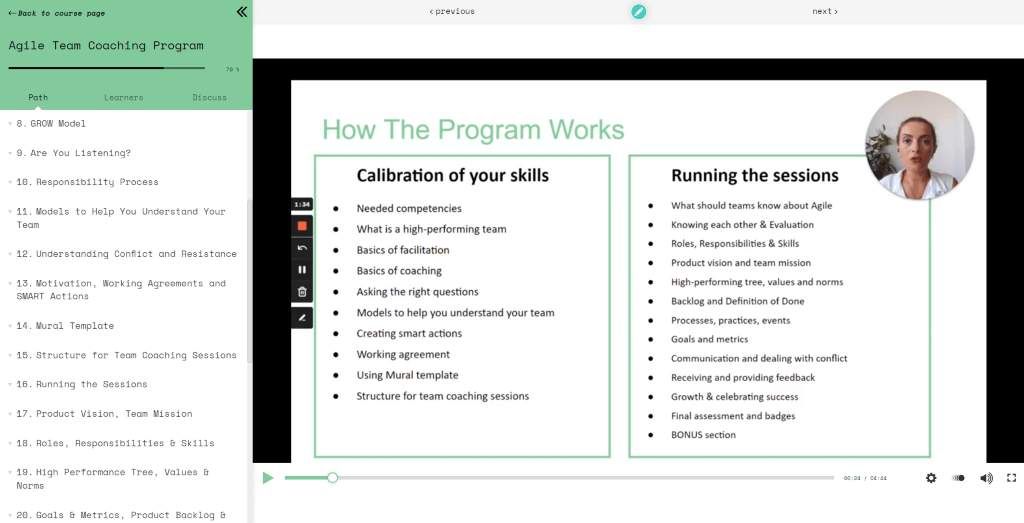 You'll discover my system to uncover all the hidden issues that need to be resolved and work them into an ultimate growth plan.


You will be able to switch team's focus from the process and efficiency to value and quality using targeted exercises.


People will understand better what they do, why they do it, and how they do it, and will be able to freely and safely talk about things they have concerns about.


I will give you a self-paced evergreen course, live guidance, templates, and exercises to learn the most targeted coaching and facilitation skills and use those in practice and start changing your team's current state in as little as 30-60 days.


Once you go through the program, you will have the necessary skills to evaluate and help any other team correctly.

10 hours of self-paced learning

8 hours of Live sessions

1 Certification

Community access

3 BONUSES
Calibrate your skills
Action-oriented coaching and facilitation approaches and methods
Models to help you understand your team
Competencies of a high-performing team
Learn to run sessions
Structured 10 team sessions, each with a specific topic and set of exercises.
Preparation and guidance on how to run those sessions.
Creating SMART improvement actions that stick and collecting feedback.
"Joining the success club starts with fostering collaboration and embracing agility among team members

so they can take the business to the next level."
Enroll Today
What is holding most Agile Leaders back from making this a reality?
Now, when agilists struggle to do this… it's because it's hard to grasp all the steps involved.

There are 2 (main) things holding them back from making this a reality:
Not having a structured and systematic approach to increase team performance:

Most Agile leaders spend too much time and energy extracting the actual team problems buried under tons of superficial challenges. They might focus on less important things and jump into providing solutions without the appropriate evaluation, knowledge and consistency.
I am going to show you a structured, practical and systematic approach to identify hidden obstacles and make the team focus on the topics that matter for increasing their performance.



Not having a plan that would lead to long-lasting improvements:

Most Agile leaders struggle to improve team collaboration and commitment and engage them in crafting a growth plan and working agreements to make long-lasting improvements.

I will share the exercises and approaches to make your team members develop action items that could eventually be turned into a growth plan. The team will be able to co-create working agreements that significantly change how they perform.
Being an expert at what you do and knowing how to consistently help teams to improve are totally different skill sets.

I will help you fix this so you can actually get appreciated for your brilliance.

I'll give you the exact same assets... systems, templates, frameworks, and examples I used to help the clients above… to make this even easier for you to start helping your teams make the first big improvements right away.
Enroll Today
You can get started with a deposit of just $220.
Then it's just 3 more monthly payments of $220.

Most of my clients see the first improvements in 1-2 months from starting as long as they put the work in. And they keep the knowledge, network, and SKILL for a lifetime.
This is NOT a 4-month program.
I'm just giving people 4 months to pay if they need it. We'll be finished in 30 days.

Alternatively, there is an option to pay $799 in full which saves you $80.

Feel free to take advantage of that option if you wish.

Check the button below for DISCOUNTS!

Agile Team Coaching Program BONUSES
I don't want you to invest just because of the bonuses, but I do have some good ones.
BONUS 1: Editable Mural template with different focus areas and exercises to help your teams communicate better and execute faster.

This one template can help you to get the full picture of where your team is and where they are going, and to raise the improvement rate.



BONUS 2: 90-day access to the Agile Team Accelerator Inner Circle.

This is my premium mastermind where I help agilists to evaluate their teams' current situation, identify root cause problems and their solutions, and increase their performance. These are mentorship and coaching live group sessions held once in two weeks.

This bonus alone is valued more than what you'd be investing for this workshop.


BONUS 3: Ultimate Team Performance Toolkita compound collection of 30+ exercises and strategies to deal with team dysfunctions and measure and improve things from team dynamics and behaviors to team efficiency, predictability and productivity.

The price of this toolkit is $150.

And with this program, you are getting it for FREE.
"As agile organizations, teams and team members, we must constantly question what could be better in order to continually improve."
Enroll Today
Meet the instructor
Anna Zakoyan
Agile Coach, Trainer and Consultant Anna is the founder and CEO of PrimeProjekt - helping companies to transform how teams collaborate and how the work gets done to create value with no delay.


Anna has 17 years of experience in leading teams, and has worked with companies such as SGS Digicomply, Krisp, Ucraft, HSBC, Ameriabank, and Joomag.
She has has helped 50+ companies, coached more than 200 teams, trained more than 3000 individuals.
The companies below have entrusted me to lead their agile team transformation and the results were promising.